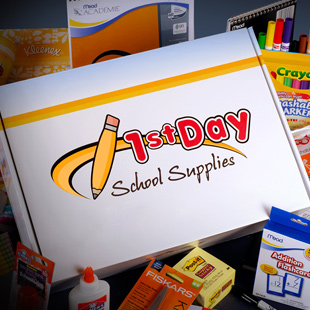 Click here to order your School Supply Kit for the 2022-2023 school year!
Order deadline is June 15th, 2022.
If you have any questions please feel free to contact me!
Katie Fink (kfink@central51.net)
The Central PTO is proud to partner once again with 1st Day School Supplies to provide the exact supplies needed for next school year without the headache of shopping at Walmart, Target or Staples.
I have personally found 1st Day School Supplies to be convenient, easy and hassle free! Plus, they have guaranteed competitive prices on the highest quality brands. Why not check school supply shopping off your list now! You can make your purchase right now, get started by clicking the link below:
Important Items to note:
The online store closes June 15th! Kits will be available to pick up from the school in early August.
There are items that we consider more of a personal choice and are not included in the school kit for any grade level (headphones, chrome book cases, PE shoes). Please refer to the official school supply list once available to make sure you have those items.
The 5th grade kit has an optional add on of a zippered binder. This item is part of the school supply list. We give you the option to purchase one with the kit or elsewhere.
The 8th grade kit has 2 optional Calculators to pick from. These are both calculators that the High School recommends as well. You can purchase one with the kit or elsewhere.
Please reach out with any questions!
Katie Fink