Our Central Story - 11/8/19
Central SD51
Friday, November 08, 2019
Mrs. Publes spoke to the children about the Mexican holiday Day of the Dead in Mrs. Couri's classroom this week. She danced with the children and helped them make paper flowers in celebration of the holiday on November 1st.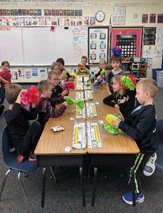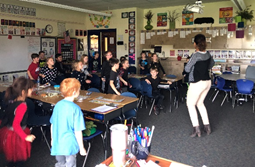 Third grade students read the book Moldilocks and the Three Scares. The students were split into small groups. In their groups, they had to come up with a plan and build a chair that would hold a pumpkin. They could only use supplies that were available to them and had to follow a few guidelines for the chair. It had to be 2 inches off the table and actually hold their pumpkin. The students did a great job, super fun afternoon!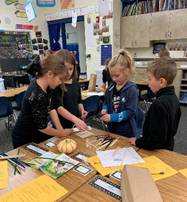 On Friday, November 1st, Central Speech students participated in the IESA State Speech contest in Metamora. One hundred four students participated in the contest in 44 skits. Central students earned 41 firsts and 3 seconds on their skits. Congratulations to the Central Speech Team and our coaches, Mrs. Woolard and Miss Davidshofer.


On Saturday, November 2nd, students from Central Intermediate, Washington Middle, Beverly Manor, and St. Pat's participated in the ILMEA District 4 Festival at Western Illinois University. The festival was a great way to showcase our choir talent in Washington. Congratulations to ILMEA performers and Mrs. Randolph!


This year, CPS anc CIS will publish a newsletter at the start of each month, and the district office will publish a newsletter in the fall, winter and spring. The newsletters will spotlight programs of interest and help keep parents informed on the issues that impact our schools. To view past newsletters, you can go to our website at www.central51.net and select the drop-down Parents & Students for the Newsletters option.